What's Wrong With This Picture? (trying to refute "Google"/Rogers ISP story)
What's Wrong With This Picture?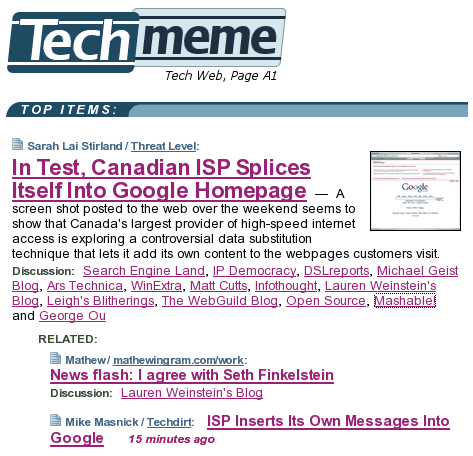 If you said "The one post with real research in it (as opposed to echoing) is relegated to an obscure discussion link, and to add to the irony, a higher-ranked blog is getting more attention just for mentioning that post", you can speak the language of Z-listers.
Let's run the numbers, from referers:
Total additional readers of post = approximately 335 unique IP addresses
comment I left at techdirt.com - 78
comment I left at mattcutts.com - 76
comment I left at blog.wired.com - 32
mention at mathewingram.com - 31
from other posts on sethf.com - 17
obscure discussion spot on techmeme.com - 20

In terms of having any effect - not "expressing myself", but real influence - that's pitiful.
I have got to stop doing this stuff, and to begin cleaning-up the loose-ends and "decommissioning" this blog.
Bonus link:
By Seth Finkelstein | posted in statistics | on December 13, 2007 11:08 AM (Infothought permalink)

Seth Finkelstein's
Infothought blog
(Wikipedia, Google, censorware, and an inside view of net-politics) -
Syndicate site (subscribe, RSS)